Company News
WeSubsea AS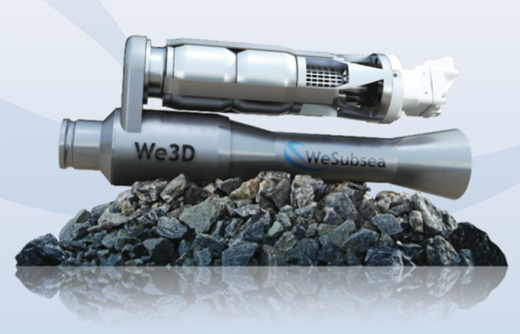 WESUBSEA 3" TITANIUM ROV DREDGER - THE We3D
THE We3D is designed as a complete out of the box integrated unit. With no external pump units or further hardware to assemble the dredger is supplied ready to be mounted to the ROV.
J2 Subsea showcases new WeSubsea Titanium 3" ROV Dredger from WeSubsea at Subsea Asia.
J2 Subsea, an Acteon company, is showcasing the We3D, WeSubsea´s new 3" titanium ROV dredger at Subsea Asia, Seatronics booth #1026, this week in Kuala Lumpur, Malaysia. Acteon companies J2 Subsea and Seatronics are now offering WeSubsea´s full range of titanium dredgers from worldwide locations.
The We3D dredger is designed to operate on smaller ROVs and larger work class ROVs. Due to WeSubsea's optimised and well proven technology, the We3D demands less power input to provide a highly efficient dredger that remains clog-free. Its ability to operate on low power input provides a solution to the lack of efficient dredgers available for smaller ROVs in the industry.
The dredger is constructed from titanium and is highly compact. Its lightweight and robust features ensure that the We3D is easier to mobilise and operate than other solutions in the market.
John Walker, director of J2 Subsea, said, "We are excited to present the We3D dredger at Subsea Asia, as we are growing significantly in the region, and value the opportunity to showcase high-end technology in an important local arena. The new 3" Titanium ROV dredger is considerably more powerful than others currently on the market, easy to use and low maintenance, making it an ideal offering for our customers, who expect to be supplied with top-quality technology."