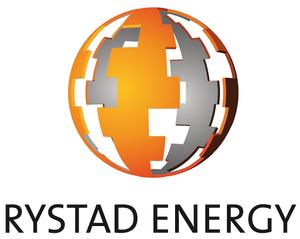 RYSTAD ENERGY AS
RYSTAD ENERGY AS - COMPANY DESCRIPTION
Rystad Energy is an independent energy consulting services and business intelligence data firm offering global databases, strategy advisory and research products for E&P and oil service companies, investors, investment banks and governments.

Rystad Energy contains highly competent and experienced staff, headquartered in Oslo and with further offices in Norway (Stavanger), the UK (London), USA (New York & Houston), Russia (Moscow), as well as Singapore, Dubai, Tokyo and Sydney. Rystad Energy was founded by managing partner Jarand Rystad in 2004.

Rystad Energy is fully independent and owned by the management. It is vital to Rystad Energy to maintain independence in operations. We stand and will continue to stand for "transparency in the oil and gas business".


2 products are registered for RYSTAD ENERGY AS
1.14. Computer and Communication Equipment (Purchase / Rental / Leasing)
3.02. Consultancy Services
DEPARTMENTS
RYSTAD ENERGY – UK
Visit:
St. Clement's House
27/28 Clement's Lane London
EC4N 7AE London
United Kingdom
Tel.:
+44 (0) 20 7129 1108
Web:
www.rystadenergy.com
E-mail:
steven.rowlands@rystadenergy.com
RYSTAD ENERGY - USA (Houston)
Visit:
1029 State Hwy 6 N, Suite 650-299
TX 77079 Houston
United States Of America
Tel.:
+1 (281)-728-0461
Web:
www.rystadenergy.com
E-mail:
andrew.conacher@rystadenergy.com
RYSTAD ENERGY - USA (New York)
Visit:
200 Park Avenue, Suite 1700
NY 10017 New York
United States Of America
Tel.:
+1 (212)-234-8018
Fax: +1 (212)-234-1123
Web:
www.rystadenergy.com
E-mail:
deepti@rystadenergy.com
RYSTAD ENERGY - RUSSIA
Visit:
Kolomenskiy proezd, 14, 5th floor
115446, Moscow
Russia
Tel.:
+7 (499)-391-1783
Web:
www.rystadenergy.com
E-mail:
anton.sungurov@rystadenergy.com
RYSTAD ENERGY - UAE
Visit:
Level 29, Reef Tower, Cluster O, JLT
115738, Dubai
United Arab Emirates
Tel.:
+971 56 7045220
Web:
www.rystadenergy.com
E-mail:
dubai@rystadenergy.com
RYSTAD ENERGY - SINGAPORE
Visit:
Level 8, Suntec Tower One, 7 Temasek Boulevard
038988 Singapore
Singapore
Tel.:
+65 6909 3718
Web:
www.rystadenergy.com
E-mail:
singapore@rystadenergy.com
RYSTAD ENERGY - JAPAN
Visit:
Level 3, Sanno Park Tower, 2-11-1 Nagata-cho
100-6162 Tokyo
Japan
Tel.:
+81 (0)3 6205 3215
Web:
www.rystadenergy.com
E-mail:
tokyo@rystadenergy.com
RYSTAD ENERGY - AUSTRALIA
Visit:
Level 24, Three International Towers 300, Barangaroo Ave
NSW 2000, Sydney
Australia
Tel.:
+61 02 8067 8468
Web:
www.rystadenergy.com
E-mail:
sydney@rystadenergy.com
RYSTAD ENERGY - BRAZIL
Visit:
Avenida Graca Aranha 226, Sala 610-612, Centro
CEP 20030-001 Rio de Janeiro
Brazil
Tel.:
+55 219 849 321 40
Web:
www.rystadenergy.com
E-mail:
rio@rystadenergy.com
RYSTAD ENERGY - AFRICA
Norway
Tel.:
+47 24 00 42 00
Web:
www.rystadenergy.com
E-mail:
bimbola.kolawole@rystadenergy.com