Company News
TAMPNET AS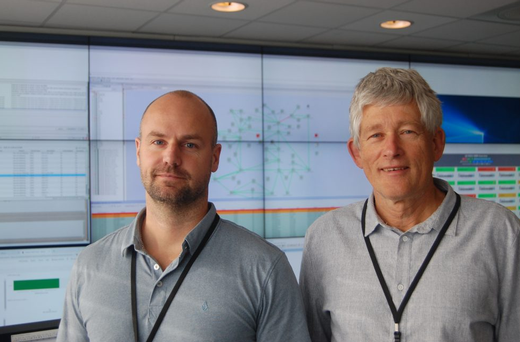 TOUGH net is now live
On Friday October 5th at 18:00 CEST Tampnet's European Network Operations Centre (NOC) took over the operation of the TOUGH network on the Dutch Continental Shelf.
The GO-LIVE migration from KPN in The Netherlands was completed successfully and Tampnet is now supplying 110 offshore platforms on the Dutch Continental Shelf with first-class telecommunications.
TOUGH chairmen, Hans de Haan and Ab Toet who are also IT Managers at two of the consortium partners are very excited about the new partnership and say:
"Now that the offshore network is in Tampnet's capable hands we would like to thank you for the smooth transition that took place last week. We are very eager to work with you to make this a long-lasting partnership!"
Improved North Sea coverage
Tampnet will tie the Dutch telecom network into its existing subsea fibre based infrastructure in the North Sea, adding flexibility and redundancy to the TOUGH members. The LTE "cloud" on the Dutch sector will merge into the overall North Sea coverage and provide a seamless and standardized offshore LTE services between Norway, the Netherlands and the UK. The added 110 Dutch platforms have doubled the number of platforms that Tampnet serve in the North Sea and the new improved coverage also offers a great potential to serve the many rigs and vessels that are using this part of the North Sea.
Huge but fast project
Project Manager at Tampnet, Jan Robert Moen has led the project and is very proud of what the Tampnet team has achieved during the past year.
"When Tampnet was awarded the contract to operate the Dutch network in October 2017 we immediately started the work on getting familiar with the existing offshore network and planning of the Tampnet infrastructure. After only one year, Tampnet was able to take over the network, go live and secure a very stable operation of the network", Moen explains.
The physical transition including handover of network management and monitoring from KPN to Tampnet was completed during five days 1st to 5th October. The transition was
led from the Dutch Tampnet office by Luut van der Molen.
"Considering the challenges we had to overcome within a relatively short timespan, it shows the perseverance of our team. Without great teamwork we couldn't have achieved this result", van der Molen points out.
The next step is to upgrade the Dutch offshore infrastructure, expand the bandwidth substantially and start installation of the LTE network. This work is expected to last for approximately two years.