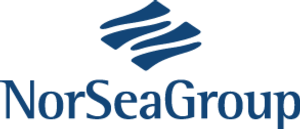 NORSEA GROUP AS
NORSEA GROUP AS - COMPANY DESCRIPTION
NorSea Group - a leading provider of supply bases, logistics and support services to the onshore and offshore oil and gas industries.

The leading supplier of base services and integrated logistics solutions to the Norwegian oil and gas industry. With over 50 years in the business, we are an experienced logistics partner within all logistic disciplines in the supply chain.

11 strategically located supply and support bases form the backbone of our business infrastructure solution in Norway. Each facility is a separate business unit supplying services to tenants and accommodating requirements from companies operating in that area.

NORSEA (TANANGER BASE)
Located just 1,5 nautical miles from the mouth of the North Sea, NorSea Tananger base is an ideal place for supplying offshore operations, as well as for offshore assembly projects

NORSEA (DUSAVIK BASE)
Dusavik offers excellent harbour conditions and strategic location for the oil and gas activities on the Norwegian continental shelf.

STORDBASE
Stordbase is centrally located in Eldøyane Næringspark at Stord, between Stavanger and Bergen.

VESTBASE
Vestbase's location offers optimum conditions for providing efficient services to the oilfields off the coast of Mid-Norway.

POLARBASE
Polarbase is the northernmost supply base in NorSea Group's network of bases along the Norwegian coast.
32 products are registered for NORSEA GROUP AS
1.01. Drilling Equipment
1.08. Tanks/Vessels/Columns Etc.
1.17. Environmental Equipment/Products
3.01. Engineering Services
3.02. Consultancy Services
3.05. Construction/ Modification/Repair/ Maintenance Refurbishment Services
3.06. Installation Services/ Marine Contracting (For Abandonment Services See Section 3.15)
3.07. Inspection/Control and Testing Services
3.08. Transportation/ Supply /Disposal Services
3.09. Surveying/Positioning Services
3.15. Decommissioning and Abandonment Services