Business presentations
Search/Browse by company name
AGGREKO NORWAY AS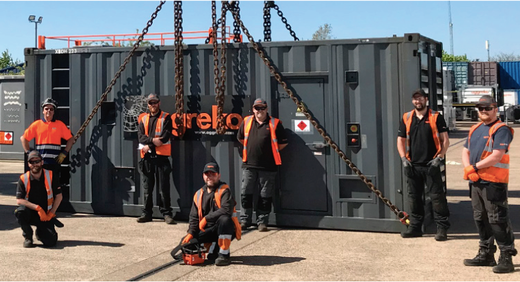 Power for every stage
Aggreko is the global leader in rental power generation, heating and cooling solutions. We help customers in many different industries improve and safeguard their operations by solving problems, creating opportunities and reducing risk. We have over 60 years operational experience, and provide 24/7/365 service and support from more than 6,000 employees operating from over 182 locations across the globe.
Dedicated partner for offshore power, heating and cooling
Aggreko has a wealth of experience in providing specialist rental power and temperature control to the offshore oil & gas sector. We provide a turnkey service to support you at every stage of a platform's lifecycle - from exploration, installation and construction through to production, decommissioning and conservation. At Aggreko, we'll work with you to meet your budget requirements, finding ways to improve efficiencies but without cutting corners of quality or safety.

Key applications include:
• Supplementary or prime power: From a single generator to a multi-megawatt solution, our high and low voltage generator rental packages can be used as prime power across an entire platform or to supplement existing onboard generators.
• Emergency power: Aggreko generators can be quickly mobilised to act as emergency power to substitute for serious on-board generator failure or to support during critical maintenance or repair work.
• Turbine replacement power: Aggreko generators can be deployed as a temporary power source to replace old and inefficient turbine - more cost-effective than investment in a new turbine.
• Preservation of plant and equipment: Aggreko's heating and drying hire solutions help preserve valuable assets and keep equipment in optimum condition to enhance their re-use or re-sale potential.
• Load-testing: Aggreko's loadbanks can be used to test all engines, generators and combustion plant to ensure they are working efficiently to minimise energy use and gaseous emissions.

Our capabilities include:
• Proven track record for onshore and offshore projects
• Fast response from our global and national network
• Extensive fleet of generators, HV equipment, loadbanks and temperature control solutions
• Bespoke engineered solutions developed in-house
• Flexibility of on and off-hiring when your requirement changes
• 24/7/365 remote monitoring

Further links to associated news articles/case studies:
1. News

2. Case Study

3. Case study

4. Case study