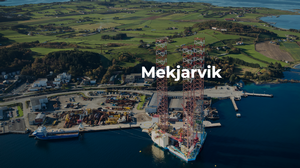 Mekjarvik Terminal
Mekjarvik Terminal - COMPANY DESCRIPTION
Deep Water and Offshore Terminal Mekjarvik (DTM).
The terminal in Mekjarvik close to Stavanger is a well-established port area for heavier industry and suitable for vessels that require longer lay-off times. Up to 20m depth and close to 500m dock, there are many possibilities.

The parent company (Stavangerregionen Havn IKS) deals with administrative activities linked to the port, and also acts as owner of the Group's mooring facilities and properties, which are leased out to the wholly-owned subsidiary Stavangerregionen Havnedrift AS.
1 products are registered for Mekjarvik Terminal
MAP OF Mekjarvik Terminal