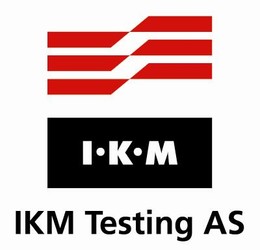 IKM TESTING AS
IKM TESTING AS - COMPANY DESCRIPTION
IKM Testing AS with approx. 1050 employees is a part of the IKM Group with Approx. 2800 employees. IKM Testing is located with Head Office in Stavanger, and departments in Bergen, Kristiansund, Hammerfest, UK, Singapore, Thailand, Indonesia, Korea, Australia, Poland, Brazil and Canada.
IKM Testing is a major supplier, both onshore and offshore, and supply the following main services:

Nitrogen / Helium Leak Testing, Pipeline Commissioning / Pigging, Passivation / Decommissioning, Pressure Testing, Chemical Cleaning, Oil Flushing, Water As a Tool / Hydrojetting, Video Inspection, Bolt Working Services, Hot Bolting, Drying, Colour Coding, Tank Cleaning, cold cutting, flangefacing,Hot tapping, pipe freezing, accumulator services, Cutting Transport Systems, Mud recovery without RIser (MRR) and Equipment Rental.
124 products are registered for IKM TESTING AS
1.01. Drilling Equipment
1.04. Pumps and Accessories
1.05. Drivers and Accessories
1.06. Heaters/Furnaces/ Boilers Etc
1.07. Heat Exchangers/Heat Transfer Equipment
1.08. Tanks/Vessels/Columns Etc.
1.10. Instrumentation /Communication and Process Control Equipment/ Materials
1.11. Miscellaneous Mechanical Equipment
1.12. Cooling/Heating/ Ventilation/Air Conditioning Equipment
1.13. Marine / Diving and Pipeline Equipment
1.16. Safety / Protection / Security / Firefighting Equipment
1.17. Environmental Equipment/Products
1.18. Packages - Construction/Outfitting
2.01. Pipes / Tubes / Hoses and Fittings
2.02. Valves and Accessories
2.03. Steel / Metal Materials
2.07. Chemicals / Oils / Paints
2.10. Architectural / Building Materials
2.11. Workshop- and Handtools
2.99. Other Products/ Equipment and Materials
3.01. Engineering Services
3.02. Consultancy Services
3.04. Drilling Services
3.05. Construction/ Modification/Repair/ Maintenance Refurbishment Services
3.06. Installation Services/ Marine Contracting (For Abandonment Services See Section 3.15)
3.07. Inspection/Control and Testing Services
3.13. Certification and Integrity Services
3.15. Decommissioning and Abandonment Services
3.99. Other Supporting Services
4.01. Engineering /Procurement
4.04. Engineering/ Procurement/ Construction/ Installation/ Commissioning
DEPARTMENTS
IKM Testing AS - Dept. Bergen
Visit:
Ågotnes Næringspark, Bleivassvegen
Post:
P.O. Boks 97
5346 Ågotnes
Norway
Tel.:
+47 51 64 90 00
Web:
www.ikm.no
E-mail:
ikmtesting.bergen@ikm.no
IKM Testing AS - Dept. Kristiansund
Visit:
NorSea Vestbase
Post:
P.O. Box 2223
6503 Kristiansund
Norway
Tel.:
+47 51 64 90 00
Web:
www.ikm.no
E-mail:
ikmtesting.kristiansund@ikm.no
IKM Testing AS - Dept. Hammerfest
Visit:
Havneveien 50
Post:
Havneveien 50
9610 Hammerfest
Norway
Tel.:
+47 51 64 90 00
Web:
www.ikm.no
E-mail:
ikmtesting.hammerfest@ikm.no
IKM Testing Asia Pte. Ltd, Singapore
Visit:
117 Defu Lane 10
Post:
117 Defu Lane 10
539229 Singapore 539229
Singapore
Tel.:
+65 67 77 88 03
Web:
www.ikm.no
E-mail:
ikmtesting@sg.ikm.com
IKM Testing Thailand Co Ltd
Visit:
72/2 Moo 3
Post:
72/2 Moo 3, Phala Sub-district, Banchang District,
21130 Rayong
Thailand
Tel.:
+66 38601 996/997
Web:
www.ikm.no
E-mail:
ikmtesting@th.ikm.com
IKM Testing Brazil LTDA
Visit:
Torre de Rio Sul-Botafogo, Rua Lauro Muller no116, Sala 2401
Post:
Torre de Rio Sul-Botafogo, Rua Lauro Muller no116, Sala 2401
CEP: 22290, 160 Rio de Janero
Brazil
Tel.:
+55 (21) 3544 0000
Web:
www.ikm.no
E-mail:
ikmtesting@br.ikm.com
IKM Testing Australia Pty. Ltd
Visit:
7 Hopetoun Place, Welshpool WA 6106
Post:
33 Kewdale Road
WA 6106 Welshpool
Australia
Tel.:
+61 8 9452 6100
Fax: +61 8 9452 6101
Web:
www.ikm.no
E-mail:
ikmtesting@au.ikm.com
IKM Testing Canada Ltd, St. Johns
Visit:
40 St. Anne's Crescent, Paradise
Post:
40 St. Anne's Crescent, Paradise
NL A1L 1K1 St Johns, Newfoundland
Canada
Tel.:
+1 709 782 5051
Web:
www.ikm.no
E-mail:
ikmtesting@ca.ikm.com
IKM Testing (UK) Ltd
Visit:
42 Colbourne Crescent Nelson Park Industrial Estate, Cramlington
Post:
42 Colbourne Crescent Nelson Park Industrial Estate, Cramlington
NE23 1WB Northumberland
United Kingdom
Tel.:
+44 01670 541 518
Web:
www.ikm.no
E-mail:
ikmtesting@uk.IKM.com
IKM Testing (UK) Ltd
Visit:
Unit47, Howemoss Terrace, Dyce
Post:
Unit47, Howemoss Terrace, Dyce
AB21 0GR Aberdeen
United Kingdom
Tel.:
+44 01224 725 599
Web:
www.ikm.no
E-mail:
ikmtesting.aberdeen@uk.ikm.com
IKM Testing Poland Sp. Z.o.o
Visit:
UL. Trzy Lipy 3
Post:
UL. Trzy Lipy 3
80-172 Gdansk
Poland
Tel.:
+48 51 64 90 00
Web:
www.ikm.no
E-mail:
ikmtesting@pl.ikm.com