Company News
TESS AS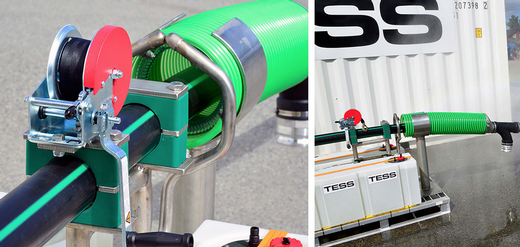 Washing station for ECOfeeder
TESS has developed a high pressure washing station for internal and external washing of used feedhoses before fragmentation and recycling.
For many years, TESS's environmental focus has been on a low climate strain, both in production and for consumer purposes.
In 2017 TESS revolutionized the aquaculture-industry with the ECOfeeder – a recyclable and touch-safe feedhose where the materials are reused for the same purpose. The homogeneous material of the hose has a high level of reuse and all of 85% of the first generation materials are applicable in the production of the next two generations. The process is based on lifetime as well as environmental reasons. The lifetime helps rationalize the operation of the facilities.
-ECO feeder has been tested at the largest farming companies with great results, and many companies within the aquaculture segment is already making use of it, says director of innovations Jan Dyre-Hansen at TESS as.
High pressure washing station
To be able to reuse the hoses they need to be thoroughly cleaned. For this reason, TESS has developed a high pressure washing station for internal and external cleaning of used hoses, before fragmentation and recycling. The washing station is used as a pre-process to the fragmentation so that the materials are ready for further processing into pellets before the production of new hoses.
The washing station is counted as a part of the fragmentation and they are carried out as one single operation. The hose is guided into the washing station by a mechanism that can be both automated and manually controlled. A high-pressure hose with self-propulsion does the internal washing, and the external wash is completed by a series of high-pressure nozzles. Further processing is done automatically by the fragmentation-machine.
-This ensures no extra handling of the hose during the process, and creates a timesaving and cost-efficient solution, says Dyre-Hansen.
The fragments are collected in a "Big Bag", and contains about 150-200 meters of hose.
Systemized
This innovative system is a tax return project, and is supported by Innovation Norway. The machine is built completely from TESS-components. The work started in the early spring of 2017, and the first tests were done already in August 2017.
The washing station separates and removes water from both internal and external washes, water that might contain organisms that should not be spread or connected to other machinery.
For safety reasons there is a splash-protection ensuring that the operator is not exposed to the washing water.
The machine is equipped with a dosage-mechanism for disinfecting fragmented materials. It works with equal efficiency whether you use fresh water or salt water.
The prototype has been tested with good results, and the experiences is used to optimize future versions. The machine will hit the market by the fall of 2018.