Company News
CASTOLIN TRIO AS, TRIO OILTEC SERVICES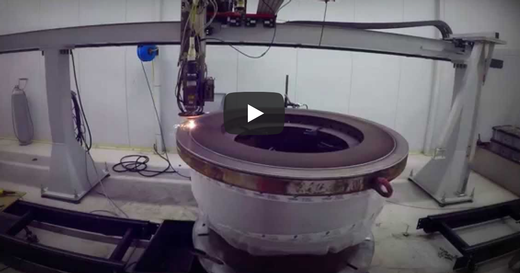 Green laser energy for part reconstruction
Trio, the Castolin Eutectic laser cladding expert in Stavanger, Norway, is currently using laser for fast and accurate re-dimensioning of 6 ton parts of a hydropower plant client.
Adding almost 250 kg of carbon steel by cladding with the 6KW machine in layers, Trio engineers built up the part to new dimensions. Using laser cladding technology, dimensions can be changed accurately without exposing the part to all the heat of conventional techniques.
Since the laser machine runs on electricity, no emissions from burning welding gases appear. The 6KW laser cladding machine is fuelled exclusively by clean hydropower electricity. Therefore, laser cladding is highly advantageous over traditional TIG and MIG welding: it is an automated process, with controllable dilution, chemically clean and environmentally-friendly.